Monday, May 01, 2006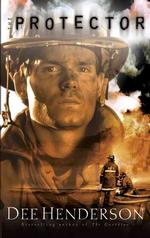 The Protector
by Dee Henderson
The Protector
is number four in the O'Malley series written by Dee Henderson. Ths volume focuses on Jack O'Malley a firefighter. This series is set in the mid-west where a group of three boys and four girls end up living in an orphanage, Treavor House, decide to adopted each other and take the family name of O'Malley.


Each book focuses on a different family member. In The Protector an arsonist is setting fires for a reason, Jack and Cassie, a former firefighter, are trying to figure out why. Jack never thought he'd fall in love with Cassie but as the arsonist grows bolder they become closer. And Jack will do anything to protect her.
Dee Henderson is a life long resident of Illinois, her christian fiction is well written and has been nominated for numerous awards. You can view additional titles and e-mail the author at
www.deehenderson.com
.



The Protector
was nominated for the The Gold Medallion Book Award. If you enjoyed this book you may enjoy the other titles in this series:
Danger in the Shadows
The Negotiator
The Guardian
The Truth Seeker
The Healer
The Rescuer